Lost and Found
American Treasures from the New Zealand Film Archive
Overview  |  Contents  |  Contributors  |  Preview & Clips |  Collaboration with Sight Into Sound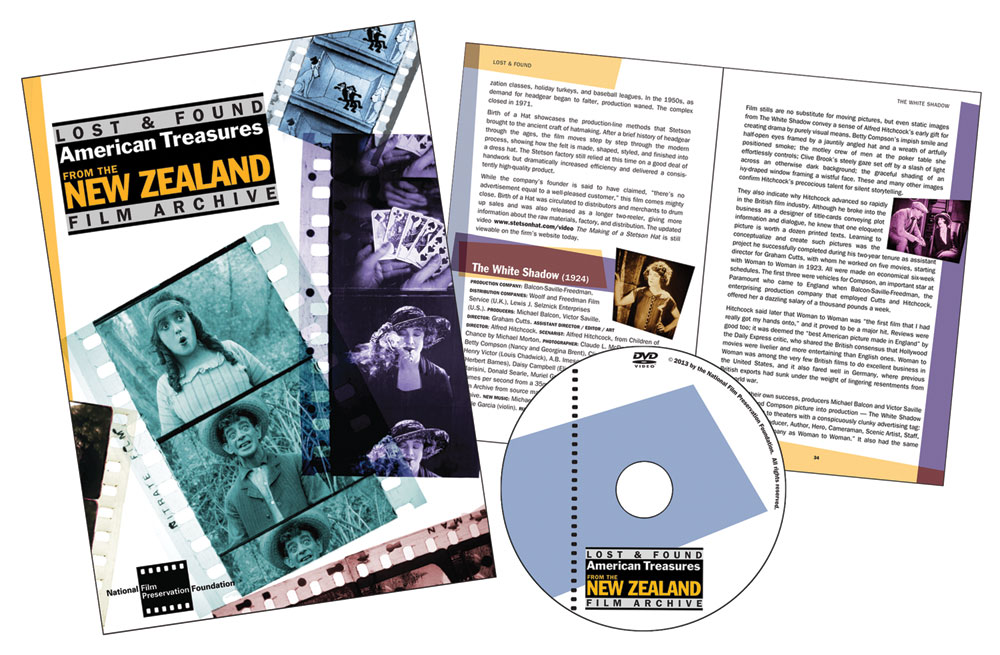 Lyman H. Howe's Famous Ride on a Runaway Train (1921, 6 minutes), thrill-packed novelty short shot from the train that inspired America's first roller coasters, reunited with its sound-effects disc for the first time in decades.
Happy-Go-Luckies (1923, 7 minutes), an Aesop's Fable cartoon about a quick-thinking dog-and-cat team who crash a dog show and take the prize.
Strong Boy Preview (1929, 1 minutes), only surviving footage of a lost John Ford feature, shot along the spectacular railway in Carrizo Gorge near the California-Mexico border.
Upstream (1927, 60 minutes), backstage comedy, deftly directed by John Ford, about the hopefuls and has-beens of a theatrical boarding house.
Birth of a Hat (ca. 1920, 14 minutes), how Stetson makes it famous hats.
The Love Charm (1928, 10 minutes), South Seas romance, shot in two-color Technicolor by Academy Award-winning cinematographer Ray Rennahan and written by Duncan Renaldo (the "Cisco Kid").
Won in a Cupboard (1914, 13 minutes), quick-paced Keystone comedy about star-crossed lovers, the first surviving film directed by and starring Mabel Normand.
The Active Life of Dolly of the Dailies #5, "The Chinese Fan" (1914, 14 minutes), starring Mary Fuller as the unstoppable woman reporter who rescues the heiress and gets the scoop.
Co-Operative Weekly Review (1918, 1 minutes) and Selznick News (ca. 1921, 2 min.), news stories about the World War I home front and oddball inventions.
Andy's Stump Speech (1924, 22 minutes), funny-paper favorite Andy Gump on the presidential campaign trail, as directed by Norman Taurog.
Virginian Types (ca. 1926, 2 minutes), stencil-colored vignettes of Old Rag and other mountain communities soon to be displaced by Appalachian National Park.
The White Shadow (1924, 42 minutes), surviving reels of an atmospheric melodrama, starring Betty Compson and Clive Brook, that is the earliest extant feature credited to Alfred Hitchcock, the assistant director, art director, writer, and editor.