From The Streets of Greenwood (1963), a documentary about civil rights activists registering African American voters in Mississippi, to James Blue's The Olive Trees of Justice (1962), a dramatic feature set during the Algerian war for independence, the NFPF is excited to announce the most recent group of films slated for preservation through its federally funded grant program. A grand total of 64 films will be preserved by 39 institutions across 24 states.
Scored by Maurice Jarre and based on a celebrated novel by Jean Pélégri (available in an English translation by Anthony Burgess), The Olive Trees of Justice (1962) was shot entirely in Algeria with nonprofessional actors; it tells the story of a Frenchman born and raised in Algeria, whose loyalties are torn between the two countries that shaped his identity. Director James Blue, who later became a distinguished documentarian, was described by Pauline Kael as "one of the gifted, intelligent men outside the industry…who are attempting to make inexpensive feature films as honestly and independently as they can." His first and only feature, Olive Trees was selected for the first International Critics' Week of the Cannes Film Festival and was praised by the New York Times as "a stately, graphic study of war" that was "stunningly evocative on two levels, pictorial and human, although it remains essentially the viewpoint of one agrarian family pulled to the edge of the war." The reviewer also noted that "Blue has extracted remarkably true performances from his entire cast."
Richard Blue, the director's brother and Chairman of the James Blue Alliance, states that "thanks to this NFPF grant, James Blue's feature debut will finally be seen again in its original 35mm format. Two years ago when we screened what we thought was one of the only surviving 16mm prints of the film, the director James Ivory, a classmate of James Blue at the University of Oregon, urged us to restore the film. Spurred on by his support, we tracked down a 35mm interpositive at the CNC French Film Archives that will be used to create a preservation master and new screening prints."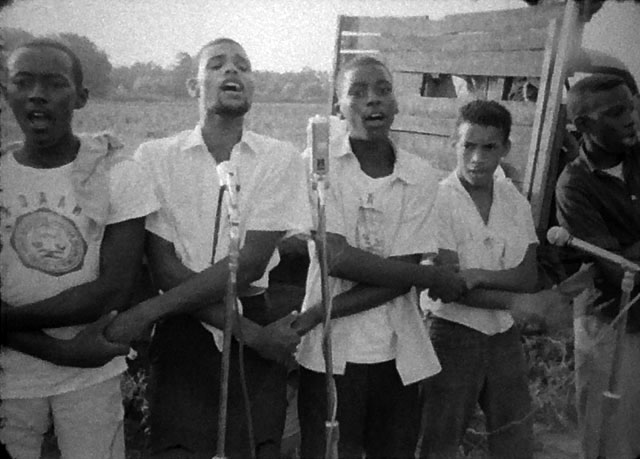 Stateside struggles for justice are shown in The Streets of Greenwood, which documents activists registering African American voters in Greenwood, Mississippi. In 1963 the town was a center for nonviolent protest and violent segregationist reaction: Medgar Evers had campaigned there repeatedly and was assassinated later that year by a Greenwood native. To raise activists' morale, a freedom rally was planned on July 6, with performances by Pete Seeger and Theodore Bikel. Filmed with Seeger's own camera by journalist Jack Willis, the performance footage became part of the larger documentary, which won the Gold Medal at the San Francisco International Film Festival. It shows activists from the Student Nonviolent Coordinating Committee (SNCC) and figures such as civil rights leader Robert Parris Moses, who explains the oppressive living conditions of the town's sharecroppers. Additional cinematography was by the noted illustrator and experimental filmmaker Ed Emshwiller. The Streets of Greenwood will be preserved by Washington University in St. Louis. 
Another social activist film greenlit for preservation, in this case by the Animation Show of Shows, is Les Goldman and Paul Julian's animated short Hangman (1964). An adaptation of a poem by Maurice Odgen about an executioner who arrives in town and hangs the cowering citizens one by one, Hangman is a classic indictment of the failure to confront injustice, and stems from Ogden's experience with the House of Representatives' Un-American Activities Committee. It has been shown to children in public schools for more than 40 years.
Also heading to film laboratories, where new negatives, film prints, and digital access copies will be created, are rare 28mm prints of educational and industrial films from 1913–19, including The Mysteries of a Machine Gun (ca. 1918) and The Latest Kinks in Canning (ca. 1917); Holly Fisher's Watermen (1968), about the "skipjack" fleet that harvested oysters in the Chesapeake Bay; early computer animation by Ken Knowlton and Stan VanDerBeek; Howard Alk and Mike Gray's documentary The Murder of Fred Hampton (1971); and footage of the young Ruby Bridges at William Frantz Elementary School, filmed by her teacher shortly after the six-year-old overcame prejudice to become the school's first African American student. Her experience was immortalized in Norman Rockwell's 1964 painting The Problem We All Live With, which was displayed in the White House when Ruby Bridges visited President Barack Obama in 2011. A full list of grant-winners is available here.
These grants are made available thanks to the Library of Congress. Since its creation by Congress in 1996, the NFPF has provided preservation support to 284 institutions and saved more than 2,287 films through grants and collaborative projects.