A portrait of a drag artist by Heather McAdams, a structural film by Lawrence Gottheim, two evocations of city/ landscapes by Allen Downs, and three works by Carolee Schneemann will be preserved and made available through the 2022 Avant-Garde Masters Grants, awarded by The Film Foundation and the National Film Preservation Foundation.
Chicago-based alternative cartoonist Heather McAdams assembled her films from found footage, viewing pop culture's scraps through an anarchic feminist lens. While teaching in Lexington, Kentucky, McAdams befriended Bradley Harrison Picklesimer, owner of a drag bar/nightclub on Main Street. Assembled "like a crazy quilt," to quote McAdams, Meet…Bradley Harrison Picklesimer (1988) scrambles found and direct footage to cover its subject's personal ups and downs, along with his thoughts on gender-bending. The film, praised as a "hilarious collaboration with its eponymous star" by Manohla Dargis in the Village Voice, will be preserved by the Chicago Film Society.
Lawrence Gottheim's Your Television Traveler (1991) will be preserved by Binghamton University, whose cinema department Gottheim founded and chaired. Its first part presents the image of a NASA rocket falling away from a spacecraft to reveal the earth. On the soundtrack are fragments from an interview Gottheim conducted with a Cuban woman in Havana. The film's second part repeats the first but with superimpositions of a religious ceremony in Havana and sound from a record on early space travel, which features astronauts identifying with the stereotyped comedic character José Jiménez. Part three superimposes on the previous section the sounds and images from a "Television Traveler" TV show about St. Petersburg, Florida.
Electronic Arts Intermix, working with the Carolee Schneemann Foundation and Anthology Film Archives, will preserve three films by groundbreaking performance and multidisciplinary artist Carolee Schneeman. Viet-Flakes (1965) compiles a wide-ranging set of images of Vietnam War atrocities from foreign magazines and newspapers; within them Schneemann "travels" by using drugstore magnifying glasses. Red News (1966) was described by Schneemann as a found footage "compendium of disasters…one explosion after another," including car crashes and war footage. Plumb Line (1968–71), the second part of what scholar Scott MacDonald called Schneemann's "autobiographical trilogy," is a portrait of the end of a romantic relationship, assembled from scrap diary footage, with a soundtrack of pop music, birds and cats, and a monologue by Schneemann lamenting the Vietnam War and lost love. She tinted, scratched, and collaged 8mm celluloid before using a step printer to reprint the frames onto 16mm.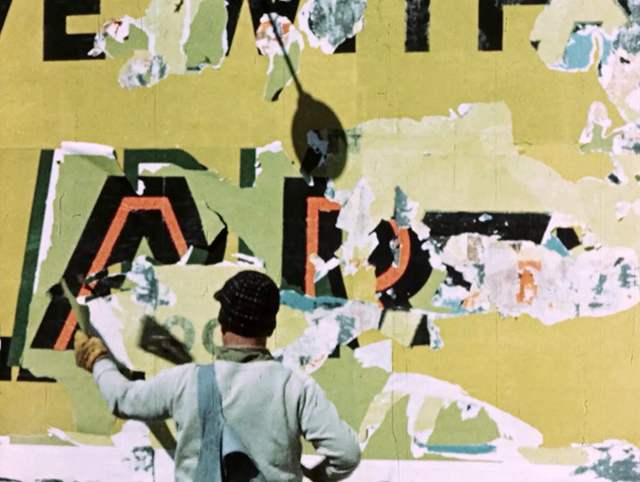 The Walker Art Center will preserve two works by Minneapolis-based Allen Downs (d.1983). A professor of photography and film at the University of Minnesota from 1950 through 1977, he started the University's film program in 1952 and its study-in-Mexico art program in 1972. His films emphasized rhythm, color, and movement; no less a figure than Bruce Baillie credited Downs with teaching him everything he knew about filmmaking. In The Color of the Day (1955), Downs journeys through St. Paul and the West Bank of Minneapolis, capturing urban landscapes through the moments of a summer's day. Influenced by the street photographers of the era, the film makes use of window reflections and the bright colors of advertisements. Love Shots (1971), the only film by Downs screened nationwide, uses optical printing, time lapse photography, rapid editing, and direct animation to capture the colors and feel of the mountains of Mexico and springtime in Minnesota.
Over the course of 20 years the Avant-Garde Masters Grant program, created by The Film Foundation and the NFPF, has saved 214 films significant to the development of the avant-garde in America. Funding is provided by the Hobson/Lucas Family Foundation. The grants have preserved works by 83 artists, including Kenneth Anger, Shirley Clarke, Bruce Conner, Joseph Cornell, Oskar Fischinger, Hollis Frampton, Barbara Hammer, Marjorie Keller, George and Mike Kuchar, and Stan VanDerBeek.